Il pianeta Venere ripreso la sera del 08 Aprile 2020. Si registrano numerosi dettagli nebulari in particolare si nota una formazione circolare nella parte equatoriale del pianeta.
Dati di scatto
Numero video: 1
Formato .ser
Durata totale ripresa 10 minuti
Frame catturati 60514
Frame tenuti per lo stack 5000
campionamento: 0.13 arcsen/pix
EN
The planet Venus photographed on the evening of 08 April 2020. Numerous nebular details are recorded, in particular there is a circular formation in the equatorial part of the planet.
shooting data
Video number: 1
format .ser
Video duration 10 minutes
Frames captured 60514
Frames held for stack 5000
sampling: 0.13 arcsen / pix
Setup
Telescope: Celestron C11 XLT
Camera: ZWO ASI 178 MM
Mount: Skywatcher eq6 Pro
Barlow: Baader Vip 2x
Filter: W47+BG40
Archivio fotografico - Photographic archive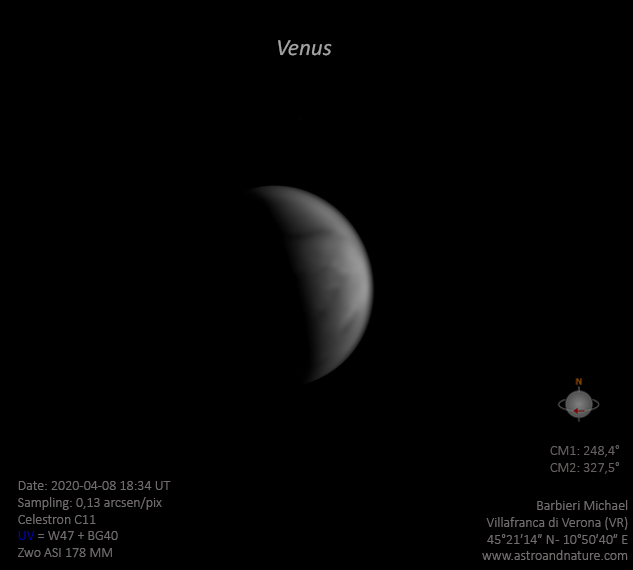 Cieli sereni - Clear skies