Il pianeta Venere ripreso la sera del 09 Aprile 2020. Vari dettagli nebulari sono osservabili nell'atmosfera. Per validare lo scatto, visto il cattivo seeing, è stato indispensabile confrontare lo scatto con foto di altri astrofotografi di altre parti d'Italia e del mondo.
Dati di scatto
Numero video: 2
Formato .ser
Durata totale ripresa 10 minuti
Frame catturati 177431
Frame tenuti per lo stack 10000
campionamento: 0.11 arcsen/pix
EN
The planet Venus photographed on the evening of 09 April 2020. Various nebular details are observable in the atmosphere.To validate the shot, considering the bad seeing, it was essential to compare myself with photos of other astrophotographers from other parts of Italy and the world.
shooting data
Video number: 2
format .ser
Video duration 10 minutes
Frames captured 177431
Frames held for stack 10000
sampling: 0.11 arcsen / pix
Setup
Telescope: Celestron C11 XLT
Camera: ZWO ASI 178 MM
Mount: Skywatcher eq6 Pro
Barlow: Baader Vip 1,4x
Filter: W47+BG40
Archivio fotografico - Photographic archive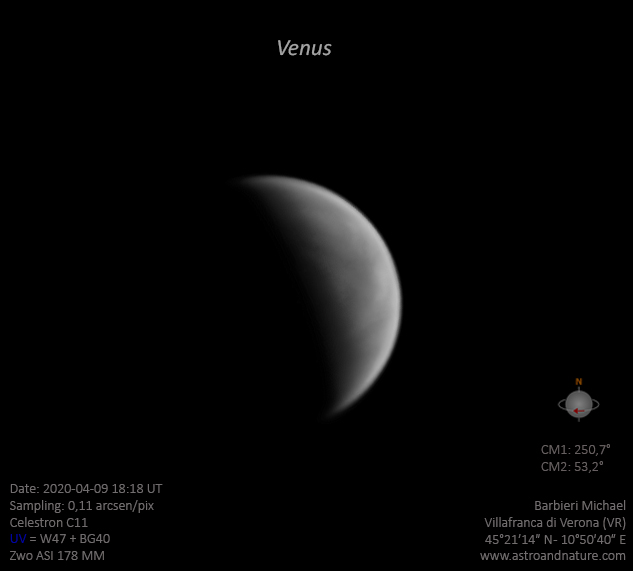 Cieli sereni - Clear skies