Il pianeta Venere ripreso la sera di Pasqua. Scatto abbastanza fortunato perchè il cielo era molto nuvoloso e sono riuscito a fare solo una ripresa di 10 minuti. In compenso il seeing era molto buono. Sono visibili svariati dettagli nebulari.
Dati di scatto
Numero video: 1
Formato .ser
Durata totale ripresa 10 minuti
Frame catturati 59432
Frame tenuti per lo stack 10000
campionamento: 0.11 arcsen/pix
EN
The planet Venus photographed on Easter evening. Shooting lucky because the sky was very cloudy and I managed to do only a 10 minute shot. despite all the seeing was very good. Various nebular details are visible.
shooting data
Video number: 1
format .ser
Video duration 10 minutes
Frames captured 59432
Frames held for stack 10000
sampling: 0.11 arcsen / pix
Setup
Telescope: Celestron C11 XLT
Camera: ZWO ASI 178 MM
Mount: Skywatcher eq6 Pro
Barlow: Baader Vip 1,4x
Filter: W47+BG40
Archivio fotografico - Photographic archive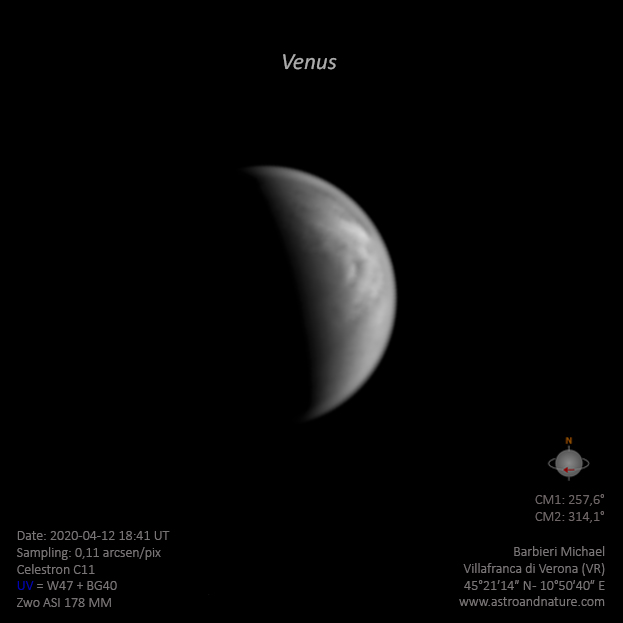 Cieli sereni - Clear skies