Un'altra foto del pianeta Venere eseguita il 17 Aprile. Seeing leggermente migliore rispetto alla giornata precedente anche se ancora non ottimale. Ci stiamo avvicinando alla fase di falce del pianeta e quindi verso la conclusione del riprese di questo periodo per quanto riguarda Venere. Diversi dettagli nebulari sono riscontrabili, in particolare nella parte sud del pianeta.
Dati di scatto
Numero video: 1
Formato .ser
Durata totale ripresa 10 minuti
Frame catturati 73532
Frame tenuti per lo stack 5000
campionamento: 0.11 arcsen/pix
EN
Another photo of the planet Venus taken on April 17th. Seeing better than the previous day although still not optimal. We are approaching the sickle phase of the planet, therefore at the end of filming for this period regarding Venus. Several nebulary details are present, particularly in the southern part of the planet.
shooting data
Video number: 1
format .ser
Video duration 10 minutes
Frames captured 73532
Frames held for stack 5000
sampling: 0.11 arcsen / pix
Setup
Telescope: Celestron C11 XLT
Camera: ZWO ASI 178 MM
Mount: Skywatcher eq6 Pro
Barlow: Baader Vip 1,4x
Filter: W47+BG40
Archivio fotografico - Photographic archive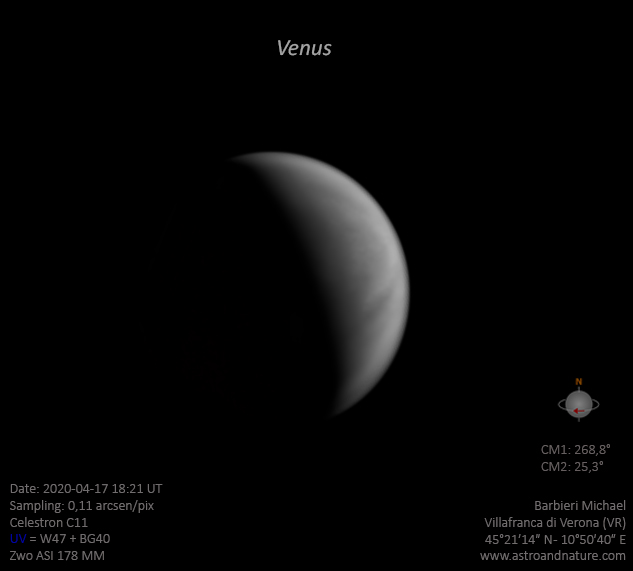 Cieli sereni - Clear skies