Un'immagine di Giove del 07 luglio scorso ripresa nel canale IR. Il seeing non era molto buono perciò per cercare comunque di far fruttare la serata ho deciso di riprendere una serie di filmati nell'infrarosso a 685 nm.La foto che vedete è il frutto di 15 riprese successivamente derotate. Il filtro utilizzato è un Baader 685 nm.
Dati di scatto
Numero video: 15
Formato .ser
Durata totale ripresa 75 sec
Frame catturati 4345 (57fps)
Frame tenuti per lo stack 2000
campionamento: 0.13 arcsen/pix
EN
An image of Jupiter of July 07 taken in the IR channel. The seeing was not very good so to try to make the evening profit I decided to shoot a series of infrared videos at 685 nm. The photo you see is the result of 15 derotated shots. The filter used is a Baader 685 nm.
shooting data
Video number: 20
format .ser
Video duration 75 sec
Frames captured 4345 (57fps)
Frames held for stack 2000
sampling: 0.13 arcsen / pix
Setup
Telescope: Celestron C11 XLT
Camera: ZWO ASI 178 MM
Mount: Skywatcher eq6 Pro
Barlow: Baader Vip 2x
Filter: Baader IR 685 nm
Archivio fotografico - Photographic archive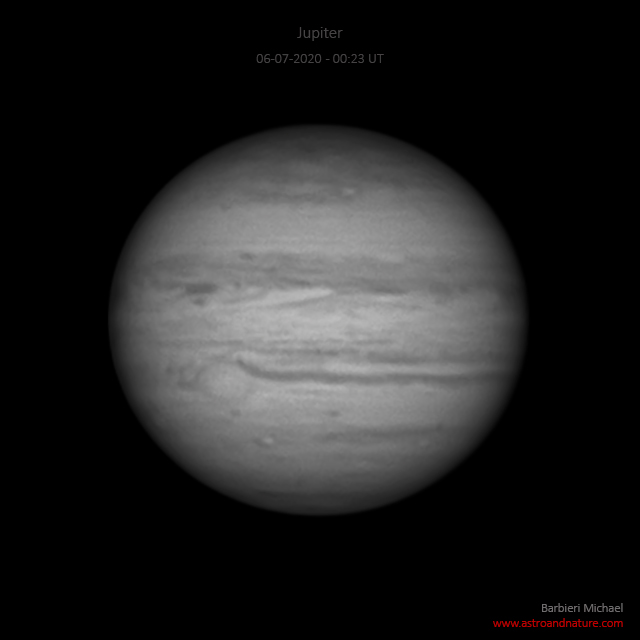 Cieli sereni - Clear skies