Marte ripreso nelle prime ore della mattina del 27 luglio 2020. Il seeing non era ottimale, ma il pianeta è molto alto sull'orizzonte e questo permette di catturare al meglio quei brevi momenti di buon seeing. Per realizzare questa foto ho fatto 15 filmati da 90 secondi dai quali ho ottenuto altrettante foto. Ho poi selezionato le foto migliori e le ho sovrapposte applicando la derotazione del pianeta con il programma winjupos. Elaborazione eseguita con AS2, Registax, Winjupos e PS. Trovate anche il filmato della miglior ripresa della serata. Alla foto ho applicato un resize del 120%. Dalla foto si possono vedere alcune delle principali strutture marziane come ad esempio: Elysium Planitia, Syrtis Major e Hellas Planitia.
Dati di scatto
Numero video: 15
Formato .ser
Durata totale ripresa 90 sec
Frame 6883 (75 FPS)
Frame tenuti per lo stack 300
campionamento: 0.11 arcsen/pix
EN
Mars photographed in the early hours of the morning of July 27, 2020. The seeing was not optimal, but the planet is very high on the horizon and this allows you to better capture those short moments of good seeing. To make this photo I made 15 90-second movies each from which I got as many photos. I selected the best photos and then superimposed them by applying the derotation of the planet with the winjupos program. Processing performed with AS2, Registax, Winjupos and PS. Also find the video of the best shot of the evening. To the photo I applied a resize of 120%. From the photo you can see some of the main Martian structures such as: Elysium Planitia, Syrtis Major e Hellas Planitia.
shooting data
Video number: 15
format .ser
Video duration 90 sec
Frames captured 6883 (75)
Frames held for stack 300
sampling: 0.11 arcsen / pix
Archivio fotografico - Photographic archive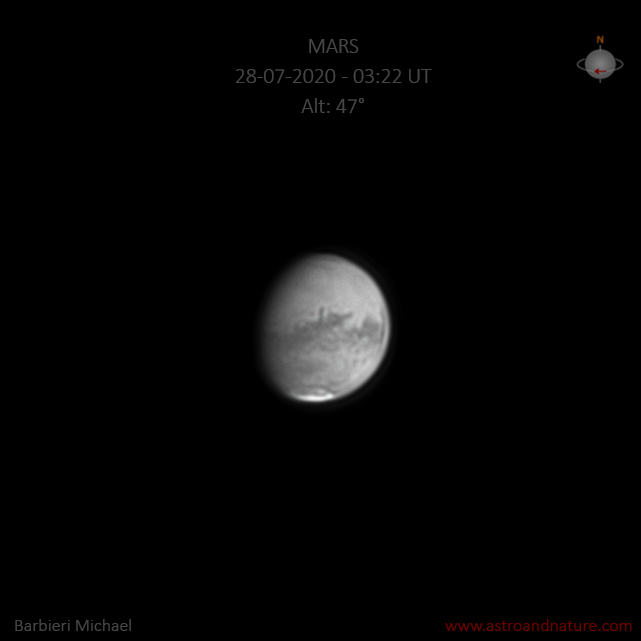 Cieli sereni - Clear skies